Finding Hope and Laughter in the Face of ALS: Brooke Eby's Journey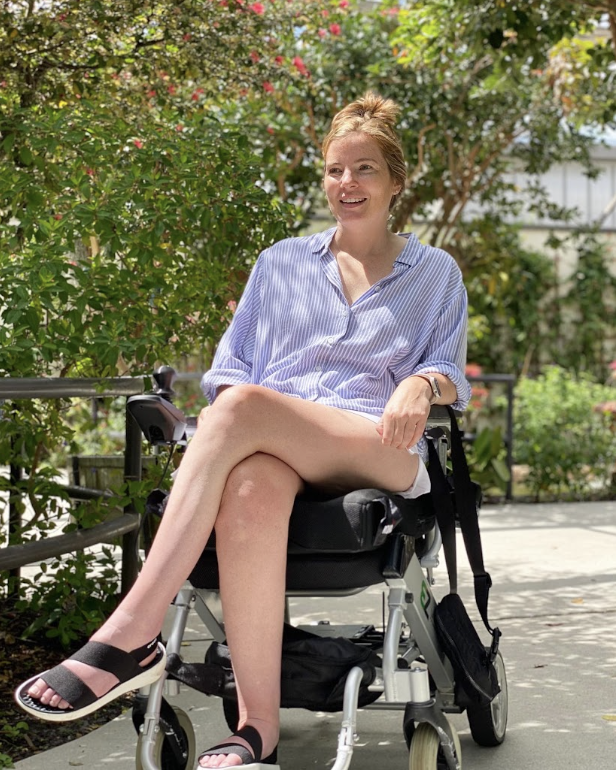 In March 2022, at the age of 33, Brooke Eby received a life-altering diagnosis: amyotrophic lateral sclerosis (ALS), also known as Lou Gehrig's disease. Now 34 years old, Brooke reflects on her journey and how she has transformed her diagnosis into a powerful platform for awareness and advocacy.
Brooke's road to diagnosis was a 4-year process filled with uncertainty. It began in 2018 when she noticed a slight limp on her left side. Concerned, she reached out to her sister, a doctor, who confirmed that she had drop foot. A series of tests followed, including MRIs, CT scans, X-rays, blood tests, and EMGs. While these tests showed denervation in her left foot, they did not provide a definitive diagnosis.
However, in early 2022, Brooke's right foot started dropping, prompting another EMG that led to her official ALS diagnosis. Dr. Ezra Cohen, who performed the EMG, identified it as a motor neuron disease and referred her to Dr. Sarah Berth at Johns Hopkins ALS Clinic, who confirmed the diagnosis.

The news of her ALS diagnosis left Brooke in a state of shock. Though she had suspected something was wrong for years, she had hoped it would resolve itself without serious consequences. The drive home from the doctor's office was filled with tearful conversations with her family, and she spent the following weeks in a state of shock, seeking solace in books and M&Ms. "I read about a book a day, and ate a pack of M&Ms a day, too. It was pure survival and escapism for those first few weeks," she added.
ALS is a progressive neurodegenerative disease that impairs the brain's ability to communicate with muscles. For Brooke, it primarily affects her legs, rendering them fully paralyzed. Over time, ALS can impact various bodily functions, such as speech, swallowing, and breathing.
Physically, ALS has significantly impacted Brooke's life. In less than a year from her diagnosis, she went from having no mobility aids to relying on a wheelchair full-time, with a progression from a cane to a walker in between.
Brooke's treatment includes medications such as riluzole and Relyvrio, along with participation in the CLENE clinical trial. She also takes supplements to support her overall well-being. Living with ALS means constant decline, making it challenging to determine the effectiveness of treatments. Brooke focuses on side effects, energy levels, and overall well-being as measures of treatment impact.
Every 3 months, Brooke visits an ALS clinic, where she meets with various healthcare providers, including neurology nurse practitioners, physical therapists, occupational therapists, respiratory therapists, and palliative care specialists who assess her progress. She appreciates the supportive and positive atmosphere her doctors create.
However, the larger impact lies in Brooke's outlook. ALS has given her a purpose, compelling her to dedicate her days to amplifying awareness of the disease through social media and advocacy.
Brooke decided to share her ALS journey publicly after witnessing actress Selma Blair's impact in raising awareness for multiple sclerosis. She realized the need for a relatable "face" for ALS and began creating humorous videos on TikTok to gauge interest. The response was overwhelming, inspiring her to build a community where people feel comfortable asking questions and discussing terminal diagnoses openly.
Throughout her ALS journey, Brooke has found immeasurable support from her friends and family. Their presence and love have transformed her perspective on the diagnosis. Attending a friend's wedding, she experienced the joy and laughter that her loved ones brought into her life. "The first 2 months after my diagnosis, I was sad and angry and unsure how to move forward. I then had to attend a friend's wedding, and two of my best friends came with me. I was really nervous walking in using a walker in front of a bunch of old college friends who had no idea what I was going through. My two best friends assured me that we'd find a way to have fun. A couple hours in, we had the bride limboing under my walker, and I was giving everyone walker rides all over the dance floor," Brooke shared. Her sister and brother, both deeply knowledgeable about ALS, have generously supported her advocacy work, while her nieces and nephews bring joy and fun, unaffected by the physical changes they witness.
Being part of two support groups, including one for young women diagnosed with ALS, has provided Brooke with invaluable connections, advice, and friendship. These groups have become lifelines during her journey.
Scientific research on NM and EDX diseases, including ALS, is crucial to find treatments and, ultimately, a cure. Brooke often states, "ALS is not incurable, it's underfunded," and the only hope lies in advancing research. Brooke emphasizes that the difference between finding a cure in the near future and waiting for decades lies in funding. Increased financial support will accelerate progress and bring hope to countless individuals living with these diseases.
In her relentless pursuit to raise awareness, Brooke urges readers to donate to the American Neuromuscular Foundation. She compares her situation to being in a car driving toward a cliff, with research being the only way to slow down or stop the inevitable outcome. Supporting research not only benefits ALS but also other related diseases, such as multiple sclerosis and Parkinson's.
As a source of inspiration, Brooke lives by her best friend's motto: "Either things will work out really well, or they won't, but you'll get a good story out of it." She is grateful to her friends, boyfriend, and family for their unwavering support and the laughter they bring into her life.
In closing, Brooke urges everyone to join her on her journey by following her story on social media (@limpbroozkit), where she says, "we'll talk about ALS, but I promise that we'll laugh along the way." Through laughter and open conversations, she believes we can drive awareness, funding, and hope for a brighter future for those affected by ALS and related diseases.
Donate to the ANF now to support research and education on neuromuscular diseases like ALS.